Bruce broadsword fetches £10,800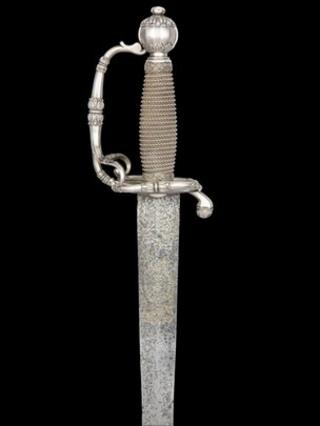 A broadsword celebrating a Scots knight who carried the heart of King Robert the Bruce into battle has been sold at auction.
The ill-fated crusade of 1330 ended in the death of Sir James Douglas.
Inscriptions and a heart engraved on the weapon recall that military mission to fight the Moors in Spain.
The sword hilt is from 1705, but the blade is much older and was passed down through the Douglas family to former Prime Minister Alec Douglas Home.
It was King Robert the Bruce's dying wish that his embalmed heart should be carried into battle by his lieutenant and friend because the king himself had not been able to go on a Crusade.
However, it only reached Moorish Granada where it became a talisman for the Scottish contingent at the Battle of Teba.
The casket containing the heart was brought back to Scotland by Sir William Keith and buried in Melrose Abbey.
One side of the sword blade carries an Imperial crown and a crowned lion rampant with the inscription "Pro Rege Et Regno Anno 1331".
The date is almost certainly commemorative.
The sword was sold at Bonhams sale of antique arms and armour in Edinburgh.