Peregrine falcon killed by discarded rubbish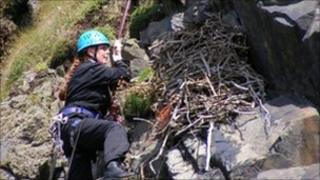 A young peregrine falcon has had to be put down after losing its feet due to rubbish discarded on a south west Scotland shoreline.
The Scottish SPCA was called out to cliffs between Leswalt and Portpatrick to recover the bird last week.
It had become tangled in nylon string in its nest which resulted in both its feet being amputated.
The SSPCA has urged people not to dump rubbish on beaches or in the water to avoid harming such "magnificent" birds.
Officers were called to the cliffs in Dumfries and Galloway on 23 July after a concerned member of the public saw the bird of prey struggling to leave its nest.
One inspector descended the cliff face to release the bird from the snagging.
However, both of its feet had been amputated after its legs had become snared in plastic wire and netting which the parents had used to build the nest.
Due to the extent of its injuries the SSPCA decided the only humane option was to put the falcon to sleep.
Insp Janet Proudlock said: "This was a very sad outcome for everyone involved in the rescue, including the gentleman who contacted us after he had been watching the peregrines rear their young for several weeks.
"I directed our rescue team from sea level and we were able to quickly reach the bird and release it from the plastic and twine that was preventing it from leaving the nest.
"We were all desperately sad, but at the same time, glad to have been able to relieve the bird from the nest as it would otherwise have slowly starved to death."
'Sad fact'
Two other chicks which were in the same nest have successfully fledged.
Insp Proudlock said it was a "sad fact" that rubbish was now a feature of countryside and coastlines and birds often built their nests from such materials.
"The birds don't know the difference between nylon string and grasses and this is the reason why tragedies like this occur," she said.
"If people just cleaned up after themselves we wouldn't have to deal with this sort of issue.
"To lose a magnificent bird such as a peregrine falcon is very sad indeed."