Kelso feed firm fined over severed arm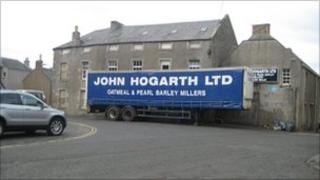 A Borders agricultural feed company has been fined £16,750 after a worker had his arm sliced off when it got trapped in a cleaning machine.
Bing Neil, 65, was near retirement at John Hogarth Ltd of Kelso, when the incident happened in February 2008.
Surgeons were unable to reattach the limb which was severed 10cm below his right elbow.
The company admitted breaching health and safety rules and failures in risk assessment and training.
Jedburgh Sheriff Court was told there had been a "degree of complacency" at the firm which has been operating from a mill in Kelso town centre since 1935.
Procurator fiscal Maureen McGovern described how Mr Neil had started his usual night shift and the first task was to clean a rotary valve or air seal four metres above the ground to avoid it getting choked with oat products.
However, he slipped and his right arm became entangled in the exposed rotating valve blade.
Ms McGovern told how he was then suspended above the floor as the rotor drew his arm into the mechanism because it had not been isolated from its electrical supply, which was difficult to reach.
She said his arm was severed and he then fell approximately three metres to the floor.
A colleague retrieved the limb in a tea towel but it was not able to be reattached.
The company, which is involved in barley and oat milling and making animal feed, pled guilty to breaching Section 2(1) of the Health and Safety at Work Act 1974.
It also admitted failures in risk assessment, training, electrical supply systems and providing platforms for working at height.
Gavin Anderson QC, representing John Hogarth Ltd, said Mr Neil was a valued employee and it "was regrettable his working life with the company had come to an end in these circumstances".
He said the firm had now taken steps to avoid any repeat of the incident.
'Simple measures'
However, Sheriff Kevin Drummond described the failures as being at the "upper end" of the scale in the four categories in which the company had pled guilty.
He said he would have fined it £25,000 but took the guilty plea into account and the fact it had no previous convictions.
Following the case, Insp Peter Dodd of the Health and Safety Executive said: "This tragedy should never have happened but it took this incident to occur before the company assessed the risks with the cleaning operation of the valve.
"They have demonstrated that the introduction of simple and inexpensive measures have eliminated the routine need for both work at height and in close proximity to machinery which could not at the time be easily and readily isolated from its electrical supply."