Borders General Hospital tackles infection risks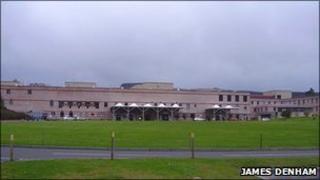 Inspectors have said progress has been made in reducing patient infection risks at Borders General Hospital but work remains to be done.
The Healthcare Environment Inspectorate (HEI) has made two unannounced visits to the site this year.
In the first it found "poor infection control practices" which raised "significant concerns".
A second visit showed improved efforts to protect patients but other areas still "requiring improvement".
A first inspection took place on 4 and 5 March this year and another unannounced visit took place on 24 June.
The findings of that assessment have now been published.
HEI chief inspector Susan Brimelow said: "The inspection team found evidence that NHS Borders is making progress in protecting patients, staff and visitors from the risk of acquiring an infection."
"For example, there is an improved approach to the management of patients with known or suspected infections and there is an improved management structure and accountability for infection prevention and control.
"However, we also found that some areas still require improvement including the need to ensure that responsibility for the frequency of cleaning is clearly assigned to a staff group, and that infection control issues are considered when purchasing new equipment."
Five requirements and one recommendation for improvement have now been agreed with senior staff at NHS Borders.
Ms Brimelow said she expected the necessary action would be taken "as a matter of priority".
NHS Borders chief executive Calum Campbell said it was pleased there had been a "considerable reduction" in the number of recommendations required.
"Since the previous HEI report issued in April, it is clear that significant improvements have been made within the BGH and we are continuing to improve our policies and practices," he said.
"Patient safety is our number one priority and we have shown we are committed to providing high standards of care, cleanliness and hygiene to minimise the risk of healthcare-associated infection.
"We will continue to work on our infection control management, cleaning schedules, equipment management and monitoring compliance."
Health Secretary Nicola Sturgeon, who expressed disappointment at the previous report, welcomed the latest findings.
"Tackling hospital infections is my top priority and I am pleased to learn that BGH has introduced a series of measures to minimise the risk of infection among patients, staff and visitors," she said.
"The inspectors found that good progress has been made but they have highlighted concerns that still need to be addressed.
"I know that NHS Borders has already implemented a significant part of its improvement plan and will now work with the inspectorate to tackle these issues and reinforce public confidence."