Alex Salmond denies BP link to Lockerbie bomber release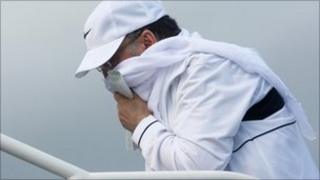 Scotland's First Minister Alex Salmond has again denied that the convicted Lockerbie bomber was released from prison because of pressure from BP.
In a letter, he has challenged US senator Robert Menendez to provide evidence Abdelbaset Ali al-Megrahi was freed on economic grounds.
Mr Salmond also reiterated that Scottish ministers would not attend a US inquiry into last year's release.
Meanwhile Mr Menendez announced an "investigative phase" to their inquiry.
During a press conference at Newark Liberty International Airport, Mr Menendez and fellow New Jersey Senator Frank Lautenberg also released the first in a series of letters to the Scottish government requesting new information.
And they said requests to interview "key individuals", potentially outside of the US, would be made.
Mr Salmond said it was "puzzling" that former UK Prime Minister Tony Blair had not been called to to give evidence before the Senate committee, as it was he who had signed a Prisoner Transfer Agreement (PTA) with Libya.
In the terse letter to Mr Menendez, Mr Salmond wrote: "You and some of your senatorial colleagues have suggested that the Scottish government have sought to pass responsibility to others for the release of al Megrahi. That is simply not the case.
"Please do not ascribe to the Scottish government economic or commercial motives for this decision when there is no evidence whatsoever for such a claim."
The first minister added: "It is difficult to envisage circumstances in which serving members of the US government would agree to appear as witnesses in hearings or inquiries held by the legislature of another country, and there are many high-profile and indeed current examples of the US government declining such invitations."
'Direct testimony'
Mr Menendez and Mr Lautenberg have pledged to carry out a thorough review of all documents already made public by the UK and Scottish governments, and all documents newly released to them by the UK government.
The senators said they would also make requests for specific additional documents from sources potentially including the UK, Scottish, Libyan and US governments, as well as BP.
In a fresh letter to Mr Salmond, they wrote: "One of your stated reasons for not participating in our hearing process is that you judge that the inquiry by the Scottish Parliament and the Scottish Parliament Justice Committee was sufficient.
"In reviewing the documents available from your inquiry in the absence of direct testimony, it seems that the inquiry was quite limited, which leads me to the first series of questions we would appreciate your help in answering."
Scottish Justice Secretary Kenny MacAskill and former UK Justice Secretary Jack Straw have refused to testify in the US.
BP's outgoing chief executive Tony Hayward has also declined to appear.
Mr Menendez has rescheduled the hearing, which had been due to take place last week, for September and issued fresh invitations to all potential witnesses.
Later Mr Salmond issued a further letter in direct response to the media event in Newark, reiterating the point that Scottish Government ministers and officials are accountable to the Scottish Parliament, and not to other legislatures.
He also said the latest questions posed by Mr Menendez and Mr Lautenberg, related to the nature of the Scottish Parliament's Justice Committee inquiry, and were therefore a matter for the the parliament and its committee rather than the government.
'Negative consequences'
The inquiry intends to focus on claims the oil giant lobbied for the release of the Lockerbie bomber.
The company has confirmed it did press the UK government for a PTA with Libya because it was aware that a delay might have "negative consequences" for UK commercial interests.
However, it has said it did not express a view about the specific form of the agreement which was a matter for the UK and Libyan governments.
Megrahi is the only man to have been convicted of the bombing of Pan Am flight 103 on 21 December 1988.
The flight, from London to New York, exploded over Lockerbie in south west Scotland killing all 259 people on board, along with 11 people on the ground.
Megrahi was released from a Scottish prison in August 2009 on compassionate grounds with a life expectancy of about three months, but is still alive almost a year later.
A request to transfer him to a Libyan jail under the PTA was rejected by Mr MacAskill.