Man 'followed woman' near Dumfries rail station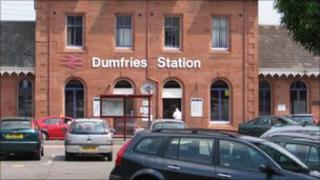 Police are trying to trace a man seen acting suspiciously and following a woman near Dumfries railway station.
The incident happened shortly before 2000 BST on Monday.
A 19-year-old woman was passed by the man, who then stopped running and appeared to start following her.
The man was described as being 25 to 39 years of age, about 5ft 5in tall with a muscular build. He was wearing white trainers, long navy blue shorts, a sweatshirt and a woollen hat.
The woman thought she had seen him out running before, and he was wearing army fatigues and a rucksack on that occasion.
Police want to identify the man in order to "establish the circumstances" surrounding the incident.