Timeline: Lockerbie bomber release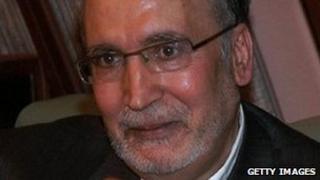 Abdelbaset al-Megrahi, the only man convicted of the 1988 bombing over Lockerbie of American PanAm flight 103 which killed 270 people, has died.
He had been released from a Scottish prison in 2009 on compassionate grounds.
Megrahi had terminal prostate cancer and, at the time, it was stated that three months was a reasonable estimate of the length of time he had left to live.
Nearly three years on, he died in Libya and controversy continues to rage about his release.
Last August after the fall of Libyan leader Col Muammar Gaddafi, Megrahi was reported to be "in and out of a coma" at his home in Tripoli.
Here is a timeline of how events have unfolded since he was freed from jail, on 20 August 2009.
20 August 2009
Convicted Lockerbie bomber Abdelbaset al-Megrahi flies home to Libya after being freed from Greenock Prison on compassionate grounds.
The decision to release the 57-year-old, who has terminal prostate cancer, is made by Scottish Justice Secretary Kenny MacAskill, but US president Barack Obama brands the decision "a mistake" and some US victims' families react angrily.
The then UK government stays out of the decision, making clear that justice matters are devolved to Scotland.
Only an hour after Megrahi's release is announced, a police convoy leaves Greenock Prison and is greeted with angry jeers from a small group of local residents.
Megrahi is taken to Glasgow Airport where he boards an Afriqiyah Airways Airbus plane bound for Tripoli, wearing a white track suit and clutching his prison release papers.
21 August 2009
Megrahi arrives at Tripoli airport to a jubilant welcome, a reception strongly condemned by the US and Britain, with the then British foreign secretary, David Miliband, describing the scenes as "deeply distressing".
22 August 2009
Lord Mandelson, the UK government business secretary, says suggestions that Megrahi's release is linked to a UK-Libya trade deal are "offensive".
He says it is "implausible" the UK would barter over the fate of the convicted bomber and then tell the Scottish government to free him.
24 August 2009
The Scottish Parliament is recalled early from its summer break - for only the third time in its 10-year history - to discuss the case.
Kenny MacAskill stands by his decision to free the convicted Lockerbie bomber, telling MSPs he will "live with the consequences".
He also says the Libyan government gave assurances that Megrahi's return would be treated in a "low-key" manner.
But Scottish opposition leaders from Labour, the Tories and the Liberal Democrats, criticise the decision to release him.
25 August 2009
Prime Minister Gordon Brown speaks for the first time since Megrahi's release, saying he is "repulsed" and "angry" by the welcome he received on his return to Libya.
30 August 2009
Justice Secretary Jack Straw insists reports that Megrahi was released over an oil deal and UK trade talks with the Libyan government are "wholly untrue".
9 September 2009
Megrahi makes his first public appearance since returning to Libya, in the hospital where he is receiving cancer care.
Looking frail in a wheelchair, he gets a standing ovation from a group of African MPs there to mark the 10th anniversary of the establishment of the African Union.
Megrahi remains silent, but, after five minutes, he begins to cough and signals he wants to leave.
22 September 2009
The Scottish Parliament's justice committee announces it will hold an inquiry into Megrahi's release.
Convener Bill Aitken says the move will provide an opportunity for the Scottish government to "allay the concerns which many hold" about the decision.
26 September 2009
Libyan leader Muammar Gaddafi denies any deal was done to secure Megrahi's release, telling the Al Jazeera news channel he now considers the matter closed.
2 October 2009
The three judges who jailed the Lockerbie bomber, following a trial under Scots law at Camp Ziest in the Netherlands, deny they were under pressure to secure a conviction.
Their comments come in a letter to the New York Times newspaper, which had published the claim by US professor Dirk Vandewalle.
Speaking on behalf of the three judges, Scottish judiciary information officer Elizabeth Cutting says they had never, to the best of their knowledge, met Prof Vandewalle.
17 October 2009
Scottish First Minister Alex Salmond compares his justice secretary's actions to the principles of Indian peace champion Mahatma Gandhi.
Mr Salmond tells the Scottish National Party annual conference it should be "proud" of Kenny MacAskill's decision to free Megrahi.
24 November 2009
Jack Straw denies a suggestion the UK government guided Scottish ministers to release Megrahi from prison on compassionate grounds.
But UK ministers did tell the Scottish government, prior to the convicted bomber's release, that the Westminster government was not seeking his death in custody.
Mr Straw was giving evidence to the Commons Justice Committee.
1 December 2009
Kenny MacAskill reveals that Megrahi wore a white shellsuit on the day of his release to hide the fact he was wearing body armour.
He later swapped the outfit for a grey suit in time for his landing in Tripoli.
5 February 2010
The Scottish Parliament justice committee inquiry into the case concludes that a visit by Kenny MacAskill to Greenock Prison to see Megrahi before his release was "inappropriate".
The inquiry expresses concern about other aspects leading up to the release, but the Scottish government says Mr MacAskill followed "due process".
30 March 2010
The UK government's reaction to Megrahi's release comes in for stinging criticism from a committee of MPs.
Westminster's Scottish affairs committee says there was "close co-operation" between the Scottish and UK governments in the run-up to the release.
The committee also says the UK administration's initial response appeared "disjointed".
4 July 2010
The Scottish government stands by the medical advice on which it released Megrahi, even though he is still alive almost a year after his release on compassionate grounds.
Holyrood ministers make their position clear after newspaper claims that Megrahi could survive for 10 years or more, although other sections of the media suggest he is expected to die within weeks.
8 July 2010
Four US senators call on Britain to investigate the circumstances surrounding the release of Megrahi.
Senators from New York and New Jersey seek the investigation in a letter to the UK ambassador to the US.
15 July 2010
US Politicians decide to hold a hearing into whether BP lobbied the UK to try to secure Megrahi's release.
The Senate's foreign relations committee wants BP to answer claims about an oil deal based on the release, but the energy giant denies making any representations over the case.
21 July 2010
The UK's new Prime Minister, David Cameron, says BP should not be blamed for the "completely wrong" decision to release Megrahi.
Mr Cameron asks the UK's top civil servant to review government papers, but rules out US demands for an inquiry.
Meanwhile, the Scottish government denies BP influenced the release.
23 July 2010
Scottish ministers and officials turn down a request to attend the US Senate hearing.
Kenny MacAskill and Scottish Prison Service medical chief, Dr Andrew Fraser, decline the invitation, along with Jack Straw, now no longer a UK minister.
BP chief executive Tony Hayward also turns down a similar request.
Senators want to examine claims BP may have lobbied for the release of Abdelbaset al-Megrahi.
27 July 2010
The US Senate hearing is postponed after key witnesses decline to take part, prompting Senator Robert Menendez to accuse them of "stonewalling".
19 August 2010
Almost a year after his release, Kenny MacAskill tells BBC Scotland he stands by his decision to release Megrahi, saying it was not based on "political, economic or diplomatic considerations".
20 September 2010
The father of a victim of the Lockerbie bombing goes to Libya to visit Megrahi.
Dr Jim Swire spends about an hour with him in a Tripoli hospital. He believes Megrahi is innocent and wants a full inquiry.
Dr Swire lost his 24-year-old daughter, Flora, in the 1988 bombing of Pan AM flight 103 over Lockerbie, which claimed 270 lives.
25 October 2010
Scotland's leading Roman Catholic backs calls for an independent inquiry into the conviction of the Lockerbie bomber.
Cardinal Keith O'Brien said "global accusations of wrongful conviction" must be dealt with.
3 December 2010
The Scottish government dismisses claims that the family of the Lockerbie bomber is to sue, alleging he was neglected in jail.
Libyan leader Colonel Gaddafi said relatives of Abdelbaset al-Megrahi would seek compensation after he died.
The claim is reported to have been made via video link to staff and students at the London School of Economics.
7 February 2011
The previous UK government did "all it could" to help facilitate the release of Lockerbie bomber Abdelbaset al-Megrahi, a report on the case says.
Sir Gus O'Donnell, the country's most senior civil servant, said there was an "underlying desire" to see Megrahi released before he died.
But his report concludes that it was made clear to Libya that the final decision was up to Scottish ministers.
And he said there was no evidence of Labour pressure on the Holyrood government.
9 April 2011
Relatives of victims of the Lockerbie bombing ask their lawyers to request a meeting with Libyan defector Moussa Koussa.
He is thought to have been a senior figure in the Libyan intelligence service when Pan Am flight 103 was blown up over Lockerbie in 1988.
26 July 2011
The man convicted of blowing up a plane over the Scottish town of Lockerbie in 1988 appears at a rally broadcast by Libyan state television.
Introducing him at a televised rally of members of Megrahi's tribe, the presenter says Megrahi's conviction was the result of a conspiracy.
22 August 2011
A Tory MP urges that Abdelbaset al-Megrahi should be sent back to the UK.
Robert Halfon said he should be reimprisoned, preferably in Scotland.
He was speaking after forces opposed to the rule of Col Muammar Gaddafi took control of most of Libya's capital.
28 August 2011
Lockerbie bomber Abdelbaset al-Megrahi is in a coma at his Tripoli home in Libya, it is reported.
CNN said Megrahi appeared to be "at death's door" in the care of family. He is technically on licence but his whereabouts were thought to be unknown.
14 April 2012
Relatives of Abdelbaset al-Megrahi say his health has "deteriorated quickly" and he has been admitted to a private hospital for a blood transfusion.
20 May 2012
Megrahi dies at his home in the Libyan capital Tripoli.
His brother Abdulhakim said that his health had deteriorated quickly and he died at 13:00 local time (11:00 GMT).