Hawick doctor sets Scotland to Sahara running goal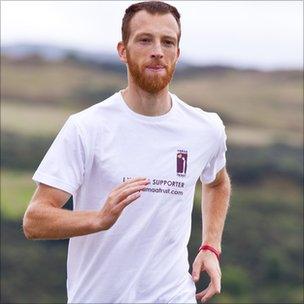 A GP from the Scottish Borders is aiming to set a world record by running 3,000 miles in 85 consecutive days.
Andy Murray, 30, who is based at Hawick Health Centre, is currently training to run more than 30 miles a day from John O'Groats to the Sahara Desert.
The charity challenge will begin on 8 November and on day five he will climb Ben Nevis.
He will then pass through England, France and Spain before finishing in Morocco on 27 January next year.
Last weekend he beat the record for running the length of Hadrian's Wall by finishing the 84-mile stretch in 16 hours and 59 minutes - three hours faster than the previous holder.
This Saturday he is tackling Skye's Cuillin Ridge mountain range.
Japan's Akinori Kusuda currently holds the Guinness world record for the most marathons run on consecutive days when he managed 52 last year.
However, if the Borders doctor achieves his target of running the 3,000 miles in 85 days the world record could be his.
He hopes to raise £25,000 for the Mongolian poverty charity The Yamaa Trust after seeing the healthcare standards and living conditions on a visit last year.
He said: "My pals think I'm crazy and people can't believe I'm pushing my body to the limits like this.
"But I'm desperate to do something like this for charity and this is the sacrifice I need to make."
Related Internet Links
The BBC is not responsible for the content of external sites.