Meteor shower pulls in the crowds in Galloway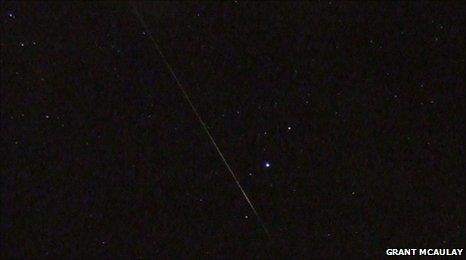 Hundreds of stargazers gathered in Galloway Forest Park to watch a meteor shower light up the night skies.
Park officials said weather conditions were patchy for the annual Perseid meteor shower.
But sky-watchers across Scotland were still able to see dozens of shooting stars during the course of the night.
As the UK's first Dark Sky Park, Galloway is recognised as one of the best places to watch astronomical events.
Keith Muir, head of recreation and tourism for Galloway at Forestry Commission Scotland, said the shower had attracted many more stargazers than expected.
He told BBC Scotland news online: "It was good to see so many of our car parks full. The cloud cover was patchy in parts of the park but it cleared up beautifully later on.
"I was there until about 1am and must have seen 80 or 90 meteors. There were a lot of faint ones but several were very bright."
The shooting stars appear when Earth passes through a stream of dusty debris from the comet Swift-Tuttle.
Last year Galloway Forest Park was officially unveiled as the first Dark Sky Park in the UK.
The award, announced by the International Dark-Sky Association, confirmed the park as one of the best places for stargazing in the world.
Related Internet Links
The BBC is not responsible for the content of external sites.