Polar bear threat to Solway geese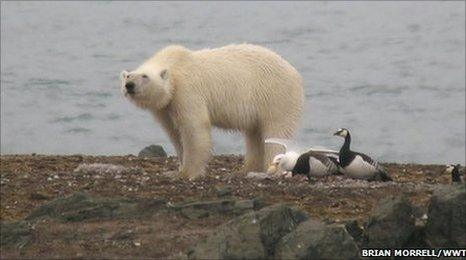 An Arctic expedition has confirmed fears that polar bears are preying on the eggs of barnacle geese who migrate to the Solway Firth each winter.
During a recent trip, scientists discovered evidence of bears eating thousands of eggs.
The bears have turned to the eggs after being stranded on land in the summer months as a result of diminishing ice.
The Wildfowl and Wetlands Trust (WWT) is concerned bird numbers could be devastated if the situation continues.
Zoologist Brian Morrell, of the WWT Wetlands centre at Caerlaverock on the north Solway coast, recorded the increased polar bear activity while monitoring a barnacle goose colony on the Arctic island of Svalbard as part of an expedition organised by Jouke Prop and a team from Branta Research from Groningen in the Netherlands.
He said 10 polar bears were seen roaming the colony, with one bear eating more than 1,000 eggs at one sitting.
Of more than 500 nests on the island, fewer than 40 were successful and most of them had very small clutch sizes of only one or two goslings.
Mr Morrell said: "The geese are very long-lived birds and ironically their survival rate is increased if they don't actually breed, especially the females.
"But if their breeding continues to be affected in this way the population will quickly age, which threatens its stability and the future conservation of this bird which is very special to WWT."
The entire population of Svalbard barnacle geese winter on the Solway Firth and return to breed in the Arctic each summer.
Last winter only half the expected numbers of goslings were seen as the flocks returned to the Solway and it is thought the situation may be similar this winter.
Ironically, Svalbard barnacle goose numbers have increased from 300 to more than 30,000 thanks to conservation efforts over the past 60 years.
As increasing numbers of polar bears forage on the islands, researchers hope the geese will adapt in time to reduce the damage to the total population.
Mr Morrell added: "Some of the goose colonies in Svalbard use cliffs to nest. Although that has its own problems for fledgling chicks, it does put the nests out of reach of marauding bears.
"It seems this will eventually be the only breeding strategy left to the geese."
Related Internet Links
The BBC is not responsible for the content of external sites.