Solway Firth wind farm plans under fire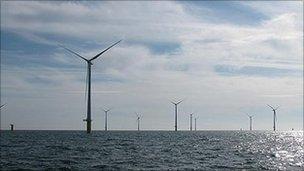 A senior SNP figure has joined growing calls for a proposed wind farm off the Solway coastline to be scrapped.
Wigtown Bay is one of two locations in the south of Scotland which have been identified by the Scottish government as suitable for wind farm developments.
But South of Scotland MSP Alasdair Morgan has outlined his opposition to a wind farm there, citing environmental concerns and its closeness to shore.
Local people have already launched an online petition against the plan.
Mr Morgan's opposition has been raised in his submission to the Scottish government's consultation on offshore wind farms.
The MSP said that while he supported proposals for an extension to the 60-turbine Robin Rigg wind farm in the Solway Firth, he was "very concerned" about the Wigtown Bay plan.
Mr Morgan said: "In the first place, the available plans suggest that it would be located very close to the shore indeed, perhaps as little as 1.5 miles offshore. That is far closer to land than Robin Rigg.
"Not only that, the strategic environmental assessment supplied with the proposal raises far more concerns than it resolves. It mentions potential damage to areas of high visual and seascape character and also potentially to birds and mammals.
"Of no less importance are the concerns raised over commercial fishing and recreational angling, both of which contribute to the local economy."
Mr Morgan added his biggest concern was that the inclusion of the scheme as a short-term project would "give little or no opportunity" for concerns to be addressed.
Last week Labour MP for Dumfries and Galloway, Russell Brown, called on the Scottish government to halt further wind farm developments in Dumfries and Galloway until a study was carried out on their impact on tourism, the environment and local communities.
His comments followed those of local MSP Alex Fergusson, who is also the presiding officer of the Scottish Parliament, who said he would like to see a five-year impact study of the Robin Rigg wind farm.
Earlier this month Mike Marshall, who is a community volunteer in the Isle of Whithorn, launched an online petition against the Wigtown Bay plan.
He said communities affected by the proposals had had little time to react.
Related Internet Links
The BBC is not responsible for the content of external sites.