Cancer doctor Howard speaks about Lockerbie bomber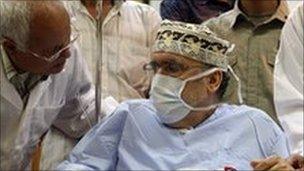 A cancer doctor has confirmed that he was an "external adviser" to the Scottish Prison Service before the Lockerbie bomber was freed.
In a statement, consultant oncologist Grahame Howard said he was "involved in discussions" prior to Abdelbaset Ali al-Megrahi's release last August.
But he added that the "final assessment" which would lead to the Lybian's freedom was not made by him.
Megrahi was convicted of Pan Am flight 103 in 1988 killing 270 people.
Dr Howard's statement comes on the anniversary of Scottish Justice Secretary Kenny MacAskill's decision to release Megrahi on compassionate grounds.
It was issued through the Scottish Prison Service and said: "As an external adviser I was involved in discussions leading up to the point where Mr Megrahi was considered for release on medical grounds.
"The background medical portion of that application is a fair reflection of the specialist advice available at the time.
"The final assessment of prognosis was made by Dr Andrew Fraser taking into account the deterioration in his clinical condition."
However, the cancer specialist, who recently said he was not surprised Megrahi was still alive, does not specify the advice he gave.
He acknowledged that Megrahi's prognosis was fairly described as "poor" and "uncertain" in his application for medical release.
Dr Howard does not say if he supported the bolder conclusions of the Prison Service's chief doctor, Andrew Fraser, who later advised ministers that Megrahi's condition had become "resistant to any treatment...of known effectiveness" and that life expectancy of three months was a "reasonable estimate".
Megrahi has already lived four times that length.
His release on 20 August 2009 provoked fury in the US, where politicians are looking into claims that the release was linked to oil deals with Libya - a claim that has been denied.
Section 3 of the Prisoners and Criminal Proceedings (Scotland) Act 1993 gives Scottish ministers the power to release prisoners on licence on medical grounds.
Related Internet Links
The BBC is not responsible for the content of external sites.