Bank fiasco 'to cost Borders council £3m'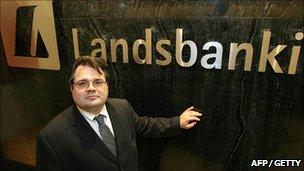 Scottish Borders Council will lose more than £3m as a result of its investments in two failed Icelandic banks, according to new revised figures.
The council had a total of about £10m in accounts with the Heritable and Landsbanki banks which collapsed in October 2008.
Unaudited accounts for 2009-10 reveal the council was repaid £1.76m on its claim with UK-registered Heritable.
But no repayments were received from Landsbanki, an Icelandic entity.
Last year the council received three repayments on its Heritable claim amounting to just under 35% of its overall claim.
Repayments are due to take place on a quarterly basis until September 2012 to meet the total claim of 84.98%.
However with Landsbanki, the council's priority creditor status is unlikely to be settled until next year.
If the council secures that status, Landsbanki payments would be made annually until October 2018.
Richard Webb, the council's chief financial officer, said they had now calculated the revised impairment loss at £3.09m.
Earlier this year, Scottish Borders Council agreed to earmark a windfall capital receipt of more than £2m from the sale of its Plexus factory in Kelso to cover the loss in the current financial year.
All of the council's current deposits, totalling £3.5m, are now invested in UK institutions.
Related Internet Links
The BBC is not responsible for the content of external sites.