Titanic ship hero campaigner dies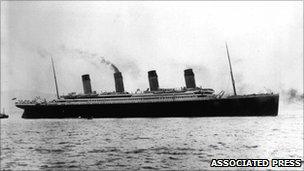 A man who campaigned to clear the name of his uncle who was wrongly portrayed as a coward in the 1997 feature film Titanic has died.
Scott Murdoch, who lived in south west Scotland, was outraged when his uncle William Murdoch - the SS Titanic's first officer - was shown shooting at passengers before taking his own life.
He eventually won an apology from the film's makers.
Mr Murdoch, who lived in Kippford, was in his 90s when he died.
He was successful in getting an apology from Scott Neeson, the vice president of 20th Century Fox, for tarnishing his uncle's reputation.
Mr Neeson visited the town of Dalbeattie in 1998 where William Murdoch was born and brought up and where he is regarded as a hero.
Mr Neeson insisted the movie "was never intended to portray him as a coward" and said any implication otherwise was "inadvertent".
At the time Mr Murdoch said he was reasonably happy with the apology but could not forget the damage done to his uncle's reputation.
Historians say his uncle did his utmost to save passengers, guiding them to boats and throwing deck chairs overboard for passengers to cling to and even giving his lifejacket to a passenger.
A monument to the first officer, who went down with the Titanic in 1912, is displayed at Dalbeattie's town hall.