Dumfries and Galloway speeding fines reach record low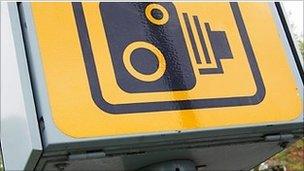 The number of speeding fines issued in Dumfries and Galloway is at its lowest level since the launch of its safety camera partnership seven years ago.
A record high of almost 18,000 fixed penalty notices - worth nearly £1.1m - were issued between 2004 and 2005.
However, in the last 12 months only 4,600 speeding fines were handed out with a total value of about £280,000.
A spokesman for the partnership said the figures "dispelled the myth" that cameras were used to generate revenue.
Stuart Hamilton said there was a range of factors which had contributed to the decline.
He said the impact of the ongoing operation of the cameras, an education programme and extreme bad weather had all played a part.
Mr Hamilton added: "We are normally criticised heavily for our enforcement strategy.
"This absolutely dispels the myth that safety cameras are there to generate revenue for the government.
"We are actually there to reduce crashes and casualties."
Related Internet Links
The BBC is not responsible for the content of external sites.