Langholm meeting seeks countryside law 'balance' sought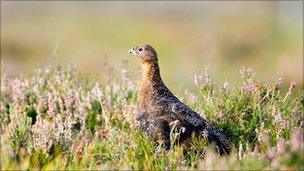 Animal welfare groups and gamekeepers have been invited to a summit on new countryside legislation next month.
A Holyrood committee will convene in Dumfries and Galloway to gauge opinions and "strike the correct balance" in the Wildlife and Natural Environment Bill.
The legislation covers controversial issues such as snaring, which has led to protests at the Scottish Parliament.
Welfare group Advocates for Animals is among those expected to take part in the rural affairs committee meeting.
Representatives from the British Association for Shooting and Conservation, the Game and Wildlife Conservation Trust, Scottish Gamekeepers Association and Scottish SPCA will also attend the event in Langholm on 7 September.
Members of the public can contact the Scottish Parliament to secure an "open mic" slot to air their views.
Committee convener Maureen Watt said: "Scotland's native wildlife is one of its greatest assets.
"It is, therefore, crucial that our wildlife protection laws are up-to-date and effective.
"Farmers and land managers also have the right to manage their land responsibly as viable businesses providing goods to the Scottish public."
She added that the importance of field sports to some local economies in rural Scotland also had to be recognised.
"Getting the new law right will be about striking the correct balance," she said.
"This is an issue on which I am sure many people in the Langholm area will have an opinion, so I hope as many people as possible are able to attend our meeting and contribute to our discussion on the future of Scotland's wildlife, land management and game laws."
The session will be held at the Buccleuch Centre at 1330 BST.
MSPs will first visit the Langholm Moor Demonstration Project, a 10-year scheme to establish a viable grouse moor and a conservation area.
The bill seeks to tighten the rules on snares, streamline the licensing regime for the control of wild animals, change dates for managed heather burning and create new offences relating to badgers.
Related Internet Links
The BBC is not responsible for the content of external sites.