Dumfries and Galloway police job cut fears hit morale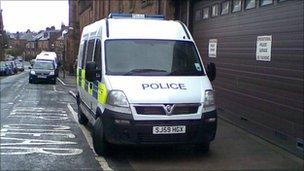 Police chiefs from Scotland's smallest force have admitted staff morale has suffered due to plans which could see up to 200 posts cut.
Dumfries and Galloway Constabulary is facing potential budget cuts of £6.7m.
A series of savings options has been tabled to meet a spending reduction of up to 25% over four years. They include not replacing retiring officers and losing up to 138 support staff.
Deputy Chief Constable George Graham said staff were understandably worried.
"Absolutely there is an impact on staff's morale and staff's confidence about the future," he said.
"Most people join the public sector and indeed join policing because it is a vocation - it is what they want to do.
"They want to make a difference in their communities - they don't join for the great big rewards, they don't join for the massive bonuses or anything like that."
He said staff wanted some "job security" and a "reasonable wage".
However, Mr Graham said that for the first time in his 28 years with the force it was having to contemplate redundancies.
"That is not palatable to us, it is certainly not what we would want to do," he said.
"The reduction in the service that we are providing to our communities is something that we are going to try and avoid but we don't think we will be able to.
"We don't have such things as non-critical posts, all the people who work within Dumfries and Galloway Constabulary do so because they provide an essential service to communities."
Related Internet Links
The BBC is not responsible for the content of external sites.