Police launch Scottish Borders Council fraud probe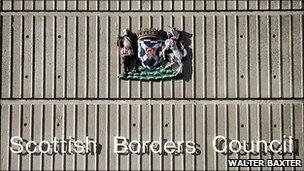 Police have launched an investigation into a suspected fraud at Scottish Borders Council - thought to be in its sports department.
It is believed a sum of about £20,000 is unaccounted for.
Internal auditors noticed the financial irregularity earlier this month and a probe, involving Lothian and Borders Police, was launched last week.
SBC leader David Parker said the investigation would not impact on any services.
A police spokesman said they were "currently co-operating with SBC and progressing an inquiry regarding alleged financial irregularity by a staff member".
Finances at the authority were tightened up almost a decade ago after a lack of monitoring procedures led to a £4m overspend by the education department - resulting in major cuts.
Further improvements in recent years have brought in even tighter accountancy checks within all departments.
A spokesperson for Scottish Borders Council said: "A member of staff is the subject of an investigation which is currently under way.
"We cannot provide any further details."
Related Internet Links
The BBC is not responsible for the content of external sites.