Tour of Britain set to stage Scottish return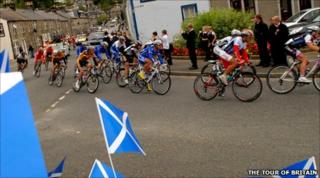 The Tour of Britain is to return to Scotland next year after leaving the country off its route for 2010.
This year's race gets under way in Rochdale this weekend but does not include a stage north of the border.
However, organisers have confirmed the cycling event will start in the Scottish Borders and Dumfries and Galloway next year.
They said they hoped to offer an "exciting stage showcasing the world-class scenery" of southern Scotland.
The cycling race came to the Borders for the first time last year but it has visited Dumfries and Galloway on a number of occasions.
EventScotland said it was delighted the event would makes its return in 2011.
It is hoped the stage can include a mass participation event with the potential to attract up to 1,500 riders.