Connaught sale to Morgan Sindall raises jobs hopes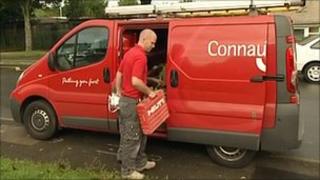 A deal to buy part of property group Connaught could save 150 jobs in social housing maintenance in south west Scotland.
The company is in administration but some operations have been bought by construction firm Morgan Sindall.
It has been estimated the deal should safeguard 2,500 jobs across the UK.
Connaught staff service a multi-million pound repair contract with social landlord DGHP on their houses throughout Dumfries and Galloway.
Administrators agreed to sell the bulk of Connaught's failed social housing group to Morgan Sindall.
It will pay £28m for the company and take over the majority of its maintenance contracts.
The employees will be transferred to Morgan Sindall's own affordable housing unit, Lovell Partnerships.