How Dalbeattie doubles for Afghanistan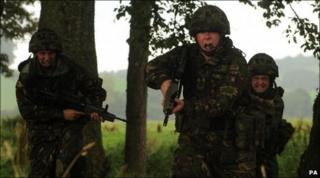 Click-clack, click-clack, click-clack, the noise came and went for hours.
As the wind and rain howled through the old farm building, soldiers from the TA (Territorial Army) battalions of the Royal Regiment of Scotland pushed rounds of blank ammunition into empty magazines under the light of their head torches.
Even though they were only getting a few hours sleep, the soldiers sorted and prepared their kit into the early hours.
As the night wore on and the weather worsened the sentries came and went until the shout came that it was 5am.
It isn't easy getting hundreds of troops through breakfast, in and out from patrols, maintaining the defence of the base.
And that's why they get up at 5am and why they're all here near Dalbeattie, in Dumfries and Galloway, making the part-time soldiers see what it's like to be part of the huge military operations in Afghanistan.
The TA currently makes up about 10% of the British forces on operations in Afghanistan. They fill all roles, medical, transport, engineering and, more and more, as front line infantry.
The modern TA seems a far cry from the weekend warrior stereotype of old.
Spending time with the soldiers reveals an impressive level of operation experience.
Many of them are ex-regular soldiers mixed in with long-serving TA who have at least one, sometimes two tours of Afghanistan or Iraq under their belts.
Sgt Alan Park will be serving in Helmand next year for the second time as a TA engineer.
Here he's helping build the defences and the infrastructure of the base. On Monday he's back working as a joiner around Glasgow.
That's why the army holds these exercises, to blend the TA solider into the regular army system.
Routine helps, getting them used to the daily ticking over of the Forward Operating Bases and Patrol Bases that are spread all over Helmand.
Get used to that, get the basics drummed in so they become instinctive.
That could be invaluable once they step into a real conflict zone.