Scottish anglers guilty of fishing illegally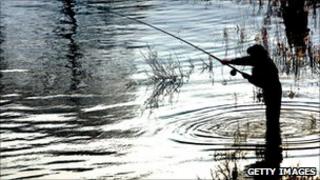 Two anglers have been convicted of fishing illegally in the Scottish Borders after failing to buy an English rod licence.
Their prosecution followed years of controversy over the Environment Agency in England's right to control the River Esk north of the border.
The pair from Newcastleton escaped any punishment at Jedburgh Sheriff Court.
Their case was seen as a test of how the Esk and Tweed rivers are administered across the border.
Brian Scott, 45, of Scotts Street, and Ross Blaikie, 31, of Douglas Square, had denied fishing for salmon or sea trout on the Liddle Water - a tributary of the River Esk - near Newcastleton, in August, 2009, without a valid rod licence.
Sheriff Kevin Drummond said there was scope to resolve the issue within current legislation without the need to change the law.
The Esk rises in the mountains to the east of Moffat, Dumfriesshire, and merges with the Liddle Water on the England/Scotland border before entering the Solway Firth in Cumbria.