Council turns down Dumfries seagull feeding ban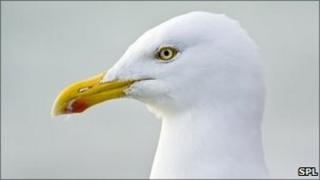 Councillors have rejected the possibility of a by-law banning the feeding of seagulls in Dumfries town centre.
There have been numerous efforts to tackle the problem of birds swooping on the public in the town.
A falcon has been used to disrupt breeding, while a nest and egg removal programme has been run twice.
Dumfries and Galloway Council turned down both a by-law and rules which could have been enforced by its staff.
A report to the authority said police would not see the by-law as an operational priority and that option was rejected outright by councillors.
Another possibility for the council would have been to introduce rules which could be enforced by its own staff, but that would have cost about £16,000.
Opinion was divided on that option with environment committee councillors voting 7-7 but chairman Roger Grant used his casting vote to turn it down.