Dumfries 'ghost town' tag deserved or not?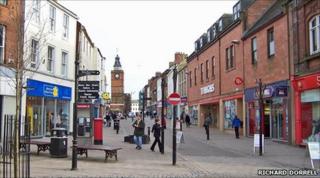 Dumfries has been on a long journey since being named as the best place to live in the UK.
That was back in 1997 when researchers, assessing a wide range of criteria, gave the honour to the south of Scotland town.
The accolade surprised many people but the town has now received another, less welcome, piece of recognition.
A study by the New Economics Foundation (NEF) has named it as Scotland's foremost "clone town" where local traders have been swamped by chain stores.
Even less favourably, their report describes Dumfries as a "ghost town" which has been "hammered by the credit crunch".
But what is the true status of the place which was once more romantically dubbed the Queen of the South?
The NEF paints a bleak picture of a high street hit hard by empty properties and the loss of retail giant Woolworths.
It also reports that out-of-town shopping developments have fared little better.
Walking through the heart of the town it would be hard to argue a case against their findings.
The number of properties to let remains high and there are precious few stores which could not be found almost anywhere else across the country.
Little wonder, perhaps, that another survey recently found that many people preferred to do their shopping elsewhere.
However, that is only half the story.
Dumfries MSP Elaine Murray has described the "clone town" name as a "spiteful title" which risks putting off visitors planning to come to the area.
She added that it was particularly unhelpful to local traders in and around the town centre many of whom have been in the region for generations.
Tackle issue
One such businessman is Michael Pattie who runs a family shop, selling outdoor clothing and equipment, in the town's Queensberry Street.
He points out the numerous locally-owned establishments nearby, all of which are only a few yards away from the main thoroughfare.
That, he suggests, is not indicative of a town which is merely a carbon-copy of countless others.
So, could it simply be a case of trying to get some of these stores into a more prominent position?
It would be easy to get defensive about being dubbed a "clone town" but that ultimately would not help solve any issues facing the area.
The NEF suggests everyone has a part to play in tackling the issue.
The public needs to use local businesses or risk losing them while local and national government are urged to help bring empty buildings back into use and give greater rates relief to some small businesses.
Such steps might help the likes of Dumfries to shake off a tag it certainly does not want and, some would argue, does not even deserve.