Family speaks of Eyemouth blaze injuries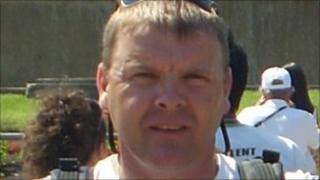 The family of a retained firefighter badly hurt while tackling a blaze at Eyemouth Golf Club has spoken of how he is coping with his injuries.
David Melrose, 44, of Duns, in the Borders has been told he will not regain the use of his legs after being injured in the fire on 7 July.
His wife, Clare, said the family "knew the risks" when he took up the post.
She added that he was a "determined person" and thanked everyone who had given them support.
Mrs Melrose told Lothian and Borders Fire and Rescue Service's magazine The Message that the news of the father-of-two's injuries was "everyone's worst nightmare".
She said her husband had been accepted as a retained firefighter three years ago despite suffering from diabetes as the condition was no longer considered an impediment.
Mrs Melrose said: "I was supportive of the decision as I knew it was what he had always wanted.
"We both knew it could be a dangerous job and we knew the risks.
"But it is not something you think about from day to day and of course you never think it is going to happen to you."
Mr Melrose is expected to remain in the spinal injuries unit of the Southern General Hospital in Glasgow for at least the next four months.
His wife said: "What we both want is to have David home and that is what we hold in our mind.
"It is a situation you never want to be in and it is very hard but we are coping.
"We can't thank people enough for their support as David and all of us come to terms with what has happened - he's still David and he's still here."