Dumfries taxi driver suffers laser attack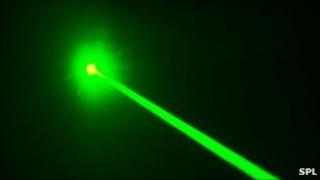 Police have launched an investigation after someone shone a laser into the eyes of a Dumfries taxi driver.
The incident happened at about 2105 BST on Wednesday in the town's Glasgow Street near to the junction with Sunderries Avenue.
Dumfries and Galloway Constabulary said the light had been pointed from a moving vehicle in front of the taxi.
The driver had to pull over for safety and has since had problems with his vision.
The 30-year-old man is currently seeking medical advice following the incident.
The vehicle from which the laser was shone is thought to have been a silver Honda Civic car.
Police have appealed for anyone who may have been in the area to get in touch if they can assist with the inquiry.
They are also keen to hear from anyone who may have suffered a similar incident.
Police have warned of the dangers of anyone pointing or shining any type of laser type light at anyone, and in particular if they are driving a vehicle.