'No record' of BP Lockerbie bomber release link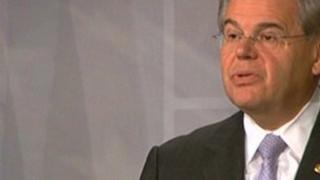 A US state department official has said there is no evidence in government records that oil firm BP sought the early release of the Lockerbie bomber.
Nancy McEldowney was speaking to a senate committee examining claims of a link to an oil deal.
Abdelbaset Ali al-Megrahi was freed from a Scottish prison on compassionate grounds after he was diagnosed with prostate cancer.
The Scottish government said the entire basis for the hearing had fallen away.
Angry reaction
When Megrahi was released in August 2009, it was estimated that he had only months to live, although he is still alive in Libya.
The decision to release him, taken by Scottish Justice Secretary Kenny MacAskill, sparked an angry reaction in the United States.
A total of 270 people, mainly US nationals, died in the 1988 atrocity and to date Megrahi is the only person to have been convicted.
The Senate Foreign Relations Committee aims to examine claims that BP played a part in securing Megrahi's release in a bid to safeguard an exploration deal with Libya.
The oil company and both the British and Scottish governments have denied this and will not be represented at the hearing in Washington.
Ms McEldowney, a principal deputy assistant secretary at the State Department, told the committee that a review of government records had "not identified any materials, beyond publicly available statements and correspondence, concerning attempts by BP or other companies to influence matters".
A Scottish government spokesperson responded to her evidence saying that it had given the senate the same message "in letter after letter, and in a meeting, for many months".
"All of the evidence demonstrates that the justice secretary's decisions... were taken on judicial grounds alone - and not political, economic, diplomatic or any other factors," the spokesperson said.
Senate committee chairman Robert Menendez also suggested that there had been confusion over whether or not Megrahi had received chemotherapy prior to release.
Megrahi had indicated, and Scottish medical records seemed to confirm, that he had not had chemotherapy, Mr Menendez said.
But the senator said evidence from an unnamed Scottish official suggested Megrahi had started chemotherapy in July 2009.
Mr Menendez said that the conflicting accounts suggested Scottish government documents had been changed.
In its statement, the Scottish government said it was a matter of public record that Megrahi was not on chemotherapy treatment in Scotland at any point.