Action over Galloway hospital C. diff cases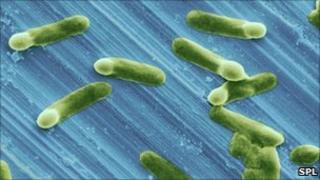 Action has been taken to try to avoid any repeat outbreak of C. difficile at a hospital in south west Scotland.
Four patients were confirmed with the infection at the Galloway Community Hospital in Stranraer last month.
NHS Dumfries and Galloway has been told the people affected have all responded to treatment.
A full report is being compiled for the region's infection control committee in a bid to identify any key issues which need to be addressed.
The Dalrymple Ward and the St John's unit at Galloway Community Hospital were closed to admissions in early September when the outbreak of C. diff was confirmed.
Since then, measures have been introduced to help prevent a repeat.
A Health Protection Scotland "trigger tool" has been utilised to alert staff to a potential outbreak in order to enable early identification of cases and help stop the spread of infection.
A simple white board is also being used in the infection control department to ensure those diagnosed with C. diff are properly assessed and are responding to treatment.
Although there has been a downward trend in the number of cases overall, the health board has been warned this latest outbreak is set to push up the next quarter's figures.
However, there has been progress in tackling MRSA with no cases reported in either July or August.