Concern at Scots rehab referral numbers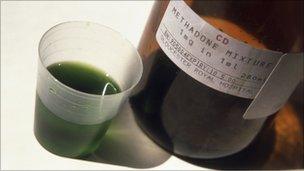 The head of a drug treatment centre has claimed the facility has been prevented from treating Scots addicts.
Peter McCann, from Castle Craig in Peebleshire, said NHS referrals were at a "pitiful level" and patients faced obstacles to get in-patient treatment.
In a letter to the Scottish Tory leader, Mr McCann said the issue needed to be raised with Scottish ministers.
The Scottish government said it had achieved "significant success" in cutting treatment waiting times.
In his letter to Annabel Goldie, Mr McCann said it was "bizarre" to say that the Scottish government did not promote one form of treatment over another when the amount reportedly spent on methadone was considered.
He wrote: "NHS referrals are at a pitiful level and every obstacle is put in a patient's way from receiving in-patient or residential treatment.
"We hear time and again reports that nurses of drug workers tell their patients that they cannot have this kind of treatment and GPs are given the same message. So they give up."
He added: "Our foreign income amounts to about £5m per year. However, our primary business is to treat Scots and this is what we are prevented from doing."
On its website, Castle Craig Hospital describes itself as one of Europe's top rehab clinics, providing in-patient treatment for those suffering from alcohol and drug addiction.
Ms Goldie said the letter provided further evidence that Scotland's drug strategy appeared to be in a "real mess".
She said: "This week I asked the first minister to set up an independent review to investigate why the new national drugs strategy, which Scottish Conservatives fought so hard for, is still not a reality on the ground.
"He declined to do this, yet this letter is further evidence that the policy appears to be in a real mess.
"Methadone can play a role for some addicts on their road to recovery, but we know many addicts never wanted to go on methadone in the first place and many addicts on it want off.
"We cannot switch people from an illegal drug and park them on a prescribed one."
The Scottish government established the Drugs Strategy Delivery Commission (DSDC) in December last year to assess independently the government's progress in delivering Scotland's drugs strategy, The Road to Recovery.
A government spokesman said: "Our record increased funding for drug treatment services and significant success in dramatically bringing down treatment waiting times are making the Road to Recovery a reality; now and for the future.
"It is heartening to see that more people are accessing treatment and support to help them recover from their drug problems, and it is wrong to infer that a decline in referrals to residential services by the NHS is as a result of people being 'parked' on methadone."
Related Internet Links
The BBC is not responsible for the content of external sites.