Lockerbie Town Hall closure concerns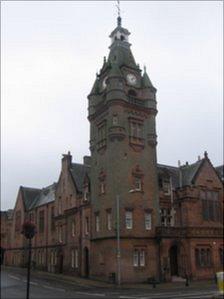 A councillor has called for a probe into the time taken to shut a town hall to the public due to safety concerns.
Lockerbie Town Hall is expected to reopen this week after being closed as result of a report by steeplejacks into the condition of the property.
Annandale North councillor Ted Brown said the council was aware of the state of the building for days before taking the closure decision.
He said he could not see any reason for such a "sluggish response".
Dumfries and Galloway Council confirmed the building was closed to the public, and being cordoned off, on 1 October.
Mr Brown said officers were made aware of the results of a survey on the building the previous week.
He praised the actions taken to help relocate events in the Lockerbie Jazz Festival due to be held in the hall.
However, he said he remained "very concerned" about the danger to the public prior to the closure decision.
He has written to the council's chief executive to seek an investigation into the time it took to shut the building.
Related Internet Links
The BBC is not responsible for the content of external sites.