Dumfries and Galloway Council cuts could cost 800 jobs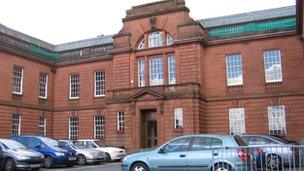 Dumfries and Galloway Council could cut 800 jobs as it tries to meet an expected savings target of more than £50m over the next three years.
The admission came from the authority's leader Ivor Hyslop during a special BBC Radio Scotland debate in Dumfries.
The council was criticised at the event for its management structure and the recent appointment of a new assistant chief executive costing £140,000.
The authority has said that move was saving spending on other posts.
The BBC debate took place at the Brigend Theatre in Dumfries on Monday night.
A panel of local politicians faced questions from concerned members of the public about the impact of spending cuts facing services across the region.
The council has previously declined to put a figure on the number of jobs which might be lost due to the reduction in its budget.
However, Mr Hyslop told the BBC that the total could be as high as 800.
A second south of Scotland debate takes place in the Scottish Borders on Wednesday evening.
You can hear the Dumfries and Galloway debate in full between 1700 and 1800 BST and again between 2200 and 2300 BST on 94.7FM across the region.
Related Internet Links
The BBC is not responsible for the content of external sites.