Glossy ibis makes Scottish visit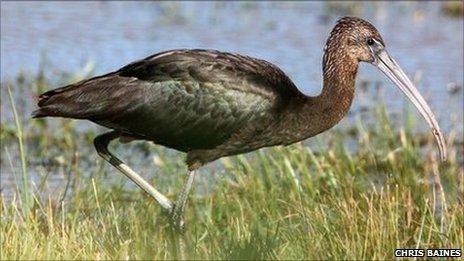 A bird more commonly found in the warmer climes of continental Europe has been spotted at a nature reserve in the south of Scotland.
The glossy ibis was discovered at the RSPB Scotland Mersehead nature reserve near Dalbeattie.
Conservationists believe the animal, which has the body of a curlew and the legs of a flamingo, was probably blown off course by strong winds.
The glossy ibis gets its name from the iridescent sheen on its wings.
In recent years, it has become a regular winter visitor to the south of England, with young birds appearing in small flocks from Spain.
Dave Fairlamb, RSPB Scotland site manager at Mersehead, said: "This is an absolutely cracking bird to have at the reserve.
"It's probably been blown off course by strong winds, and is now stocking up its reserves by feeding on small invertebrates in our muddy pools.
"It's quite big when compared to our other wading birds here, and with the green shimmer on its back, it's easy to spot."
Related Internet Links
The BBC is not responsible for the content of external sites.