Dumfries and Galloway winter emergency plans developed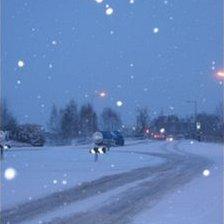 Dumfries and Galloway Council has drawn up plans to keep its roads and schools open if there is a repeat of last year's severe winter weather.
A report recommends boosting capacity at three depots to store sufficient salt and grit supplies.
The aim is to ensure schools and roads are kept open and allow vulnerable people to be properly supported.
The extra capacity could keep stocks high enough for 50 days of routine "precautionary" salting of routes.
A report to the full council this week is seeking approval of the plans which involve depots in Castle Douglas, Dumfries and Lockerbie.
The council is also being advised that new salt or grit bins should be provided on steep hills at the request of a community council or, where one does not exist, a minimum of five local residents.
Last year all of the region's schools were closed after the Christmas holidays, many of them for a number of days, due to heavy snow and freezing conditions.
Related Internet Links
The BBC is not responsible for the content of external sites.