Seabirds 'bring economic boost' to Mull of Galloway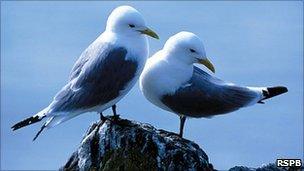 The Mull of Galloway bird reserve in Dumfries and Galloway generates more than £100,000 a year for the local economy, the RSPB has said.
The organisation said research carried out for its Local Value of Seabirds report indicated the importance of seabirds goes beyond the ecological.
The Mull of Galloway reserve was found to have generated £125,000 in 2008.
It is home to a large cliff colony of guillemots, razorbills and kittiwakes, along with other birds and wildlife.
Rory Crawford, seabird policy officer for the RSPB, said: "Anyone that has witnessed the cacophony of sound and activity that is a seabird colony in the breeding season knows that this is one of nature's great spectacles.
"However, this report indicates that seabirds have an important economic value to local communities beyond their intrinsic and ecological value.
"This should be yet further incentive to ensure we properly protect our important populations in the face of significant impacts from climatic change."
The RSPB advocates a series of protected marine areas around the British coast.
It has identified 24 sites in Scotland, stretching from the Mull of Galloway to the Treshnish Islands off the west coast, to Papa Stour in Shetland, Ythan estuary in Aberdeenshire and the Isle of May in the Firth of Forth.
Meanwhile, the migration of thousands of birds to their winter feeding grounds on the Solway Estuary is under way.
The annual influx of a variety of species is the focus of a monitoring programme at the Wildfowl and Wetlands Trust centre at Caerlaverock.
The reserve is renowned for the barnacle geese which fly in each year from their breeding grounds in the Arctic and has also seen the arrival of the first whooper swans of the year from Iceland.
This year a family group of five barnacle geese has arrived with three white birds - one of the parents, most likely the mother, and two goslings.
Brian Morrell, from the WWT, said a single white barnacle goose was occasionally spotted but he had never seen or heard of a group like this before.
The progress of the migrations will be featuring on the BBC's Autumnwatch programme.
Related Internet Links
The BBC is not responsible for the content of external sites.