Cameras 'cut road deaths' in Dumfries and Galloway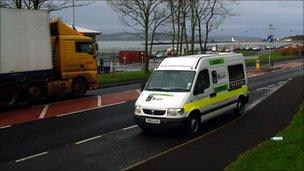 The use of mobile speed cameras at accident blackspots in Dumfries and Galloway has led to a huge drop in fatalities and serious injuries, new figures suggest.
The number of deaths and serious injuries has fallen by 71% since mobile speed cameras were introduced in 2003.
Scotland's chief statistician recorded an average of eight deaths and serious injuries per year in 2007-09.
That compared with an average of 26 at camera sites in the period before 2003.
The figures compared favourably with national statistics which suggested deaths and serious injuries at camera sites fell by 56% in 2007-09.
Dumfries and Galloway's Safety Camera Partnership said the figures were hugely encouraging.
Partnership manager Sgt Lee Black commented: "With a 71% reduction in the number of people being killed or seriously injured at our safety camera sites we are delighted that our operation, which not only includes enforcement but also incorporates an educational programme and various engineering measures, is making our roads safer places to travel."
Related Internet Links
The BBC is not responsible for the content of external sites.