Rare white geese spotted at Solway Firth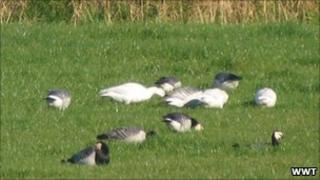 Conservationists in Dumfriesshire have been stunned by the arrival of an extremely rare family of barnacle geese from the Arctic.
A white barnacle goose and two white goslings have turned up on the Solway coast after migrating from the Arctic.
Staff at the Wildfowl and Wetlands Trust (WWT) centre at Caerlaverock said the sighting was likely to be unique in Scotland.
A family of white, or leucistic, geese has not been seen there for many years.
Conservationist Brian Morrell from the WWT said: "It is amazing. I have worked here for 20 years and I have never seen a family of leucistic geese here before. In an entire population of 30,000 birds, there are only going to be one or two, and sometimes none at all."
Mr Morrell said one of the two parent birds was white while the other had normal plumage. Of the three goslings, two were white.
'Good season'
Meanwhile, fears that barnacle goose numbers were being devastated by hungry polar bears in the Arctic appear to be receding.
Earlier this year, an expedition to Svalbard found that polar bears were preying on the eggs of barnacle geese who migrate to the Solway Firth each winter.
The bears had turned to the eggs after being stranded on land in the summer months as a result of diminishing ice.
But Mr Morrell said numbers arriving at Caerlaverock for the season appeared to be holding up, although it was too soon to give a definitive answer on how things would turn out.
He said: "Early indications are that it has been a fairly good breeding season - we have seen quite a few goslings already."