Dumfries and Galloway pupil support costs 'will be met'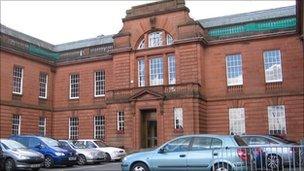 Pupil support will be provided in Dumfries and Galloway despite a lack of funding in the current schools services budget, the council has said.
Councillors have been warned of a potential overspend of about £500,000 this financial year, leaving no money for pupil support.
The education committee was told the overspend could be significantly reduced, if not wiped out.
But a further savings target of more than £1m is unlikely to be achieved.
Councillor Jeff Leaver, Dumfries and Galloway Council's Labour education spokesman, said funding was vital to prevent a rise in exclusions.
He said: "We need to identify this as being effectively a ring-fenced area that we can't afford to cut back on as a means of making savings.
"We don't know what is coming up in terms of demand so if it does increase we need to make sure it is funded, and that once again is going to be a major challenge.
"If we have to dip into the council's corporate reserves in order to tackle it then so be it."
Education committee chairman Sandra McDowall insisted pupil support would not be compromised.
She said: "Our priorities will always be met and it will simply be reflected as a budget pressure in our reports.
"It will be up to other areas to try to make savings that are achievable."
She added: "My main ambition is that we come in on budget."