Screening leads to rise in rates of chlamydia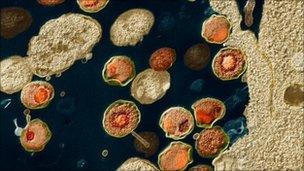 Rates of chlamydia are high among young men in south Scotland due to screening efforts, health experts believe.
Official figures show Dumfries and Galloway and the Scottish Borders have the highest level of positive tests among under-25s.
A total of 18% of those being checked were found to have the sexually transmitted infection.
Sexual health co-ordinator Fiona Gleghorn said the figures had to be taken in context.
She said the figures only appeared high because of extensive efforts to screen men under 25 who were notoriously hard to reach.
"They are quite reluctant to come in for a variety of different reasons," she said.
"They are shy, they're embarassed or they don't think they can get infections the same way girls do.
"We have had quite an effort in the last year to six months to try to target young men."
Related Internet Links
The BBC is not responsible for the content of external sites.