Tracking system catches council cars speeding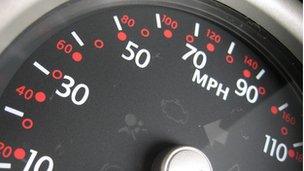 Hundreds of warnings about speeding have been sent to Dumfries and Galloway Council staff since the authority put tracking systems into its vehicles.
The new equipment was fitted in 100 corporate pool cars in April and has been added to others since then.
A total of 481 e-mails have been issued warning drivers about their speed - the highest being 93mph in a 70mph zone
The council said no disciplinary action had been taken but repeat offenders would be dealt with by management.
The local authority agreed to introduce a car pool in April this year as part of its efforts to drive down staff travel costs.
At that time vehicles were fitted with satellite tracking and others from its roads and refuse collection fleet have since been added.
A freedom of information request from the BBC Scotland news website found that hundreds of warnings had been issued to the council's 6,000 strong workforce.
The five highest speeds recorded by the system ranged from 88mph to 93mph in a 70mph limit.
The council said nobody had been reported to the police or subject to prosecution.
"Warnings are, however, monitored, and repeat offenders will be dealt with on a management basis," it said in a statement.
Related Internet Links
The BBC is not responsible for the content of external sites.