Memorial awards handed to Borders youth groups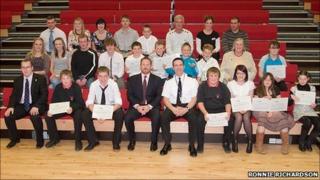 In January 2006 serving police officer Karen Balfour died in a road accident in the Borders.
Such was her impact on the community and in particular her work with youth groups that a series of community awards was set up in her memory.
Last week another six awards were made to various groups and individuals in the Berwickshire and Eyemouth High School areas.
Kevin McCall is a Scottish Borders Council youth worker and was one of the judging panel.
He said: "Fantastic, inspirational as always, fantastic stories of volunteering.
"It sums up what we talk about when we talk about community and that means an awful lot to an awful lot of people."
The awards were presented by Superintendent Murdo Mciver, area commander for Lothian and Borders Police, who praised the community spirit inspired by the Karen Balfour Awards.
He said: "Karen Balfour encapsulated everything that is good about community based policing in the Borders.
"We care about policing in the Borders because this is our community because this is what these sorts of nights are all about."
Award winners
Berwickshire High School catchment primary: Adam Gaston, Sam Gaston, Calum Watson and Cameron Ponder.
Berwickshire High School secondary: Chloe McGregor.
Eyemouth High School catchment primary: Aaron Bolton.
Eyemouth High School secondary: summer activity leaders (Eyemouth) 2010 - David Hutchison, Robert Grigg, Claire O'Brien, Jade Sinton, Alan Reid, Amy McQueen, Matthew Turnbull and Stuart Davies.
Special award for individual/project: Berwickshire Riding for the Disabled.
Special contribution award: Coldstream Youth Project.