Dumfries and Galloway fire brigade cuts taken forward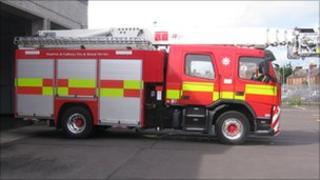 A priority list has been endorsed to cut fire service spending in Dumfries and Galloway by more than £700,000.
The options have been set in order of impact with the least damaging, a management restructure, at the top.
The least favoured proposal, to withdraw two fire appliances from service, carried a warning that lives could be put at risk.
Chief Fire Officer Colin Scott said he was hopeful that the most damaging proposals could be avoided.
Ten savings proposals have been identified which could see the loss of up to 27 retained firefighters.
The council has stressed no final decision will be made on cuts until meetings of the authority next month.