Dumfries students join fees protest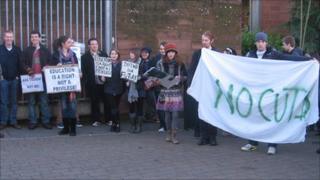 About 200 college and university students in Dumfries have staged a walkout in protest at plans to raise tuition fees south of the border.
The Crichton campus demonstration was part of a national day of action.
Thousand of other students turned out to voice their anger at moves to allow English institutions to charge up to £9,000-a-year.
The Scottish government has ruled out such fees but demonstrators said there was a need for UK-wide solidarity.