Galloway villagers criticise 'lifeline' bridge closures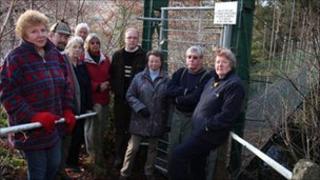 Residents of a remote Galloway village have criticised the closure of two footbridges which they say provide a winter "lifeline" for the community.
They act as a link from Kendoon to the main Castle Douglas to Ayr road when motoring routes are blocked.
The residents association said the closures were a "devastating blow".
Scottish Power, which owns the structures, said they had been shut for public safety but hoped that repair work could start early next year.
The village of Kendoon, north of St John's Town of Dalry in Dumfries and Galloway, is separated from the main A713 Castle Douglas to Ayr road by the Water of Ken and Water of Deugh.
'Vital role'
Traffic routes into the area can be closed by bad weather but the 25 villagers used to use the footbridges to get to the main road in such circumstances.
Residents' association chairman David Lycett said: "This is a devastating body blow for our small community.
"The bridges provide an essential lifeline for non-driving residents to access public transport and for non-driving visitors wishing to visit friends in the village.
"In the past, the bridges have played a vital role by enabling food and medicine to be left for collection at the bus stop on the A713, when fallen trees or winter makes the B7000 to Dalry or Carsphairn impassable.
"It also provided a route for the doctor if one was needed due to an emergency."
Homes in the village were built originally for South of Scotland Electricity Board workers employed on the Galloway Hydro Electric scheme in the 1930s.
They were put up for sale in the 1970s when they were no longer needed.
However, Scottish Power retains ownership of the bridges which have now been closed.
A spokesman for the company said the footbridges - which lie below Kendoon Hydro Station - had suffered significant corrosion and had to be closed for public safety.
However, he said a further structural assessment had shown that repairs were possible and it was hoped work could start early next year.