Borders learns about 'extreme' weather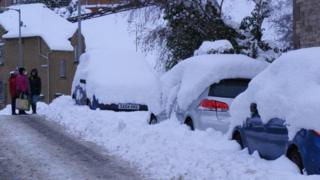 There's an oblong box in the window of one of Jedburgh's newsagents.
"My First Weather Station," it says. And there's an invitation to "learn all about extreme weather" on the carton.
I don't know whether the current spell of snow really counts as extreme.
But it is quite unusual, in recent decades, for November.
I am also unsure if the snowy and icy blast affecting the Borders will boost or depress sales of "My First Weather Station".
But I do know it has sent sales rocketing in some of the local shops.
The hardware store is selling snow scoops and shovels as if they were going out of fashion.
The in-colour this year appears to be a bright orange - I'm afraid my snow scoop is yellow, so January 2010.
The yellow scoop, and me, have been working quite hard over the past few days.
Loaded trolleys
No sooner do you clear the front path then, whoosh, an overnight fall of 4in to 5in sends you back to square one.
The local supermarket is busier than normal.
Some people must believe the snow will last until Christmas as they have their trolley loaded with enough bread to feed a regiment and supplies of milk which would last the average family at least four weeks.
The weather may not be "extreme", but human behaviour, at least in some cases, appears to be so.
Roads are much quieter than normal, which is a blessing, because most pavements have between a 1ft and 15 inches of snow on them, so walking on the carriageway is the only realistic way to get from chilly A to slippy B.
Now, what's the betting we DON'T get a white Christmas?
And by the way, Santa, I won't bother with the "My First Weather Station".