Lockerbie bomber 'neglect' compensation claim dismissed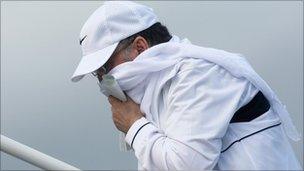 The Scottish government has dismissed claims that the family of the Lockerbie bomber is to sue, alleging he was neglected in jail.
Libyan leader Colonel Gaddafi said relatives of Abdelbaset al-Megrahi would seek compensation after he died.
The claim is reported to have been made via video link to staff and students at the London School of Economics.
The Scottish government said Megrahi received the highest standard of care while serving his sentence.
He was freed from Greenock prison on compassionate grounds in August last year after being diagnosed with terminal prostate cancer.
The Libyan was given a life sentence after his conviction for the murder of 270 people in the 1988 atrocity.
According to reports, Colonel Gaddafi claimed: "His health was not looked after in prison.
"He didn't have any periodic examination - I wish him a long life.
Legal experts said any civil case would need to prove that, had diagnosis of Megrahi's condition taken place earlier, it might have been cured or its effects mitigated.
Megrahi's Scottish lawyer Tony Kelly said he would not comment on Colonel Gaddafi's statement.
A Scottish government spokesman said: "The Scottish government do not doubt the conviction of al-Megrahi.
"He was given the same high standard of NHS care as any other prisoner."
The statement was echoed by a Scottish Prison Service spokesman, who said: "He received the high standard of NHS care that anybody else would get in the prison system."
Reacting to the compensation claims, Rev John Mosey, the father of a victim of the bombing, told Radio 5 Live he could not imagine the Scottish authorities "being deliberately neglectful."
He added: "On a physical level it would seem he was very well catered for. Possibly above the average.
"I do know that he was in a special cell that was orientated to Mecca. It was a sort of a suite that he had. He had Sky television."
"On the medical side, I really have no idea at all."
Related Internet Links
The BBC is not responsible for the content of external sites.