Snow-hit Scottish Borders pupils return to school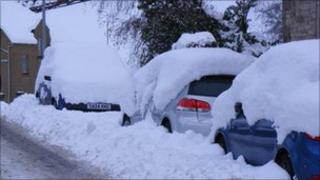 Scottish Borders Council is reopening all its schools after their closure due to heavy snowfalls.
Most of the 73 sites were shut throughout last week although some were briefly opened on Wednesday morning.
About 300 council workers worked over the weekend to clear roads, pathways and playgrounds across the region to allow 18,000 pupils to return.
However, the council has said only a limited catering service will be able to be offered at the reopened schools.
School transport operators have been assessing road conditions and some services will not be running.
Children have been advised not wait more than 15 minutes if their bus is late.
Two schools in neighbouring Dumfries and Galloway - Kirkgunzeon and Lochside Primaries - were shut due to heating failures.
Keep up to date with the latest situation through BBC Scotland's radio bulletins in the Borders on 93.5FM and Dumfries and Galloway on 94.7FM and on the BBC Scotland news website.