Dumfries theatre funds cultural clash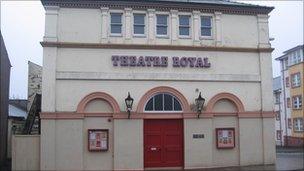 Dumfries and Galloway Council has dismissed claims it has shown a "lack of commitment" to performing arts in the region.
Alan Henry of the Guild of Players made the claim after the authority voted down a £315,000 funding package for the Theatre Royal in Dumfries.
The council decided instead to focus its attention on a new cultural centre for the town.
Mr Henry said he believed that would take at least 10 years to realise.
He said the council decision not to fund Scotland's oldest working theatre had "pulled the feet" from under the facility which is owned by the Guild of Players.
"It certainly shows, in my opinion, a lack of commitment by this council to performing arts," he said.
"The main reason given seemed to be they wanted to concentrate their energies and money in a new cultural centre.
"That's a project that I think is terrific, Dumfries could do with a new cultural centre."
Mr Henry said he doubted such a facility could ever be delivered.
"The reason I am perhaps being a bit cynical is that I have actually got a press cutting from the Glasgow Herald that talks about the need for a new cultural centre in Dumfries," he said.
"That cutting is dated November 1954 and nothing has happened since then."
"I will be surprised if something suddenly happens now."
Labour Councillor Colin Smyth, who proposed backing the funding package, described the decision not to support the theatre as a "disgrace".
"It shows the anti-Dumfries sentiment that runs at the very heart of this council," he said.
"They appear to take pleasure in watching the gradual decline of our regional capital.
"I hope they are proud that in a few years they could well be able to add the Theatre Royal to the list of boarded-up, derelict buildings crumbling away in Dumfries town centre."
However, council convener Patsy Gilroy defended the decision to keep its £455,000 fund intact for cultural and theatre development in Dumfries.
She said: "The condition survey on the Theatre Royal made it clear that the present building was not sustainable and doesn't have a future.
"It can't be refurbished and remodelled to make it truly fit for its purpose for the theatre-goers in this town."
She said the council still supported "good theatre provision" and wanted to use its money "more effectively".
"The £455,000 set aside for theatre development will be used to move forward a cultural centre/theatre for the town of Dumfries," she said.
"It can be used towards a modern, exciting facility that is built for the job.
"I hope that the Guild of Players and supporters of the Theatre Royal will work with the council and other partners to deliver for Dumfries as a town and for Dumfries and Galloway as a region."
Related Internet Links
The BBC is not responsible for the content of external sites.