Lockerbie bomber Megrahi appeal case stays undisclosed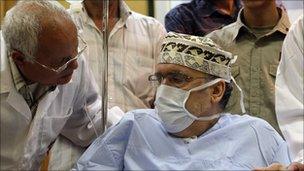 Information which led to the case of the man convicted of the Lockerbie bombing being referred back to the Appeal Court will not be revealed.
The Scottish Criminal Cases Review Commission (SCCRC) said it had been unable to get consent from all parties which had provided it with material.
It had come from prosecutors, police and the Foreign Office, plus Abdelbaset Ali al-Megrahi and his legal team.
Without unqualified consent, the SCCRC is unable to publish the material.
The commission recommended in June 2007, after a four-year investigation, that Megrahi be granted a second appeal against his conviction.
He subsequently dropped that action prior to his release from prison in August last year.
The SCCRC had agreed, in principle, that it would be prepared to release the "statement of reasons" provided to the Appeal Court in the case of Megrahi.
However, chief executive Gerard Sinclair said the move would have required the consent of those who had "directly or indirectly" provided information.
He said he had been involved in correspondence and discussion over the past nine months to secure such permission.
Mr Sinclair added that it had now become "obvious" there was no likelihood of obtaining the unqualified consent needed.
He said the commission would be happy to revisit the matter if that requirement was removed.
Meanwhile, East Renfrewshire Council has dismissed reports that Megrahi was in a coma as speculation.
The local authority is in regular contact with the Libyan via video link as part of the agreement which saw him released from prison on compassionate grounds.
He was freed from Greenock Prison in August last year due to his prostate cancer.
Megrahi was jailed in 2001 for the bombing of Pan AM flight 103 over Lockerbie which claimed 270 lives.
Related Internet Links
The BBC is not responsible for the content of external sites.