South of Scotland councils examine funding offers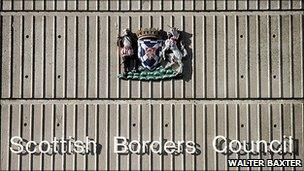 Councillors in the south of Scotland are assessing the impact of a Scottish government funding offer.
Finance Secretary John Swinney has put forward a deal to limit cuts to their spending if they deliver key SNP policies like freezing council tax.
If Scottish Borders Council and Dumfries and Galloway Council agree the deal then it would result in their budgets being cut by 2.6%.
Turning down the offer would result in a 6.4% reduction in spending.
Mr Swinney said it represented a "very good deal" but other parties have criticised the SNP for coercing councils into accepting the terms.
Senior officials of Dumfries and Galloway Council were said to be studying the figures in a bid to assess the full implications.
They had been preparing for potential cuts of about £20m but the impact would be significantly less if they take the deal.
Scottish Borders Council has already agreed a range of cuts in anticipation of a reduction in its budget.
Related Internet Links
The BBC is not responsible for the content of external sites.