Dumfries and Galloway reserve boosts farm bird numbers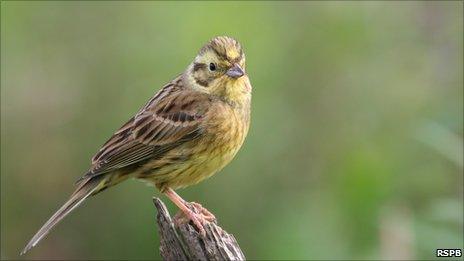 Wintry weather has resulted in a record number of farmland birds descending on an RSPB reserve in south west Scotland in search of food.
The use of "seed-rich" plots has been credited with turning the Mersehead site into a "giant bird table".
Large numbers of yellowhammers, reed buntings, linnets and skylarks have been recorded on the reserve.
The RSPB said that in severe winter conditions the use of specially-planted plots could help the birds survive.
Reserve manager Dave Fairlamb said: "We've sown 35 hectares of a mixture of crops such as oats and oilseed rape, providing food for a range of species over the winter months, with maize and kale providing much needed cover for foraging.
"It's really been bringing in these enormous flocks of small birds like linnets, in numbers that we've not seen before.
"It's an amazing sight, and it's great to know that the work we put in really can pay off, particularly when the weather is as bad as it's been this year already."
More than 2,600 linnets, 100 yellowhammers, 229 reed buntings and 1,200 skylarks have been recorded along with smaller numbers of brambling, tree sparrows and chaffinches.
RSPB Scotland hopes the results might see others create similar "wild bird cover plots" across the country.
They can be financially supported through Scotland's agri-environment scheme, which any farmer can apply for.
The RSPB said their value has already been highlighted on a number of farms, with one in Angus recording 13,000 feeding birds at the height of the recent bad weather.
Related Internet Links
The BBC is not responsible for the content of external sites.